Fishing Reports
Posted by Brian Richardson on
Posted by Brian Richardson on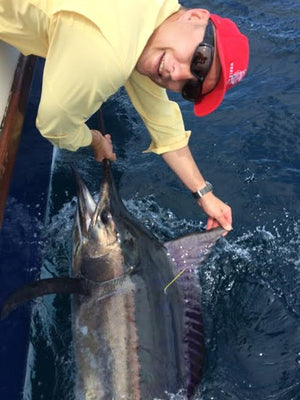 his is straight from South Africa!! Hi Brian I love it when a plan comes together. Got the lures on Monday and went fishing yesterday. We raised  a black on the voodoo (blue mackerel combo) on the short rigger. It wacked the voodoo and popped the rigger. The lure went into the prop wash so the black turned on the next lure it saw and devoured it. Tagged and released it on 50lb tackle. Fish was about 200lb. That voodoo really turned that fish on!! Pic attached. Regards Brendan  
Posted by Brian Richardson on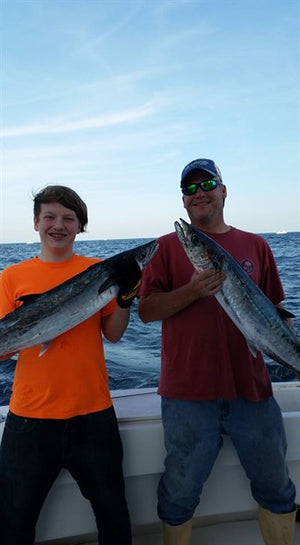 We were able make it out yesterday and the weather man was a little off.  Forecast was 3-5 every 12 Sec.  Well they were close on the 3-5 but they missed the 12 sec more like 4-5.  We could not find any love from the wahoo, tuna, or dolphin.  But we ended up dead baiting and caught 6 kings.  We tipped the dead baits with Sea Wasp and that did the trick.  They preferred the Sea Wasp Ballyhoo over the naked Ballyhoo.  
Posted by Brian Richardson on
We fish Monday.  We managed to scrap out 9 Kings and a Nice Sailfish!!  But we saw several Blue Fin busting just outside the inlet!  Don't forget your BLUE FIN RIGS!!  Check out our Video courtesy of Fishing Status!!
Posted by Brian Richardson on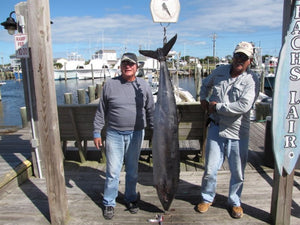 Mr. Tom Fay fished out of Teach's this week a 97lb wahoo.  What a stud.  Congratulations Mr. Tom.  With was the Frequent flyer that landed this one. We fished on Thursday and fished 250 line up to the point.  We went 1 for 4 on the Wahoo and 25 Black Fin Tuna.  22 Of the 25 were caught on our new Black Fin Tuna Rig.  It will be available on the website soon!! 
---