Tips
Posted by Brian Richardson on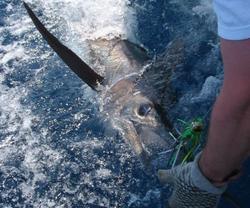 Freshwater Fishing and Offshore Fishing are Two Entirely Different Animals! With many new anglers trying offshore fishing every day, often these newer anglers ask me some of the same basic questions. First they tell me that they were pretty good freshwater fishermen but now they want to try those same skills in the offshore game. Their questions almost always lead into to same discussions. Just how can their freshwater fishing skills translate to offshore fishing? The answer isn't always one that they are comfortable with. A really great freshwater fisherman has honed his skills to a razor fine point. He knows...
Posted by Brian Richardson on
When I speak at fishing clubs, I often make a statement that shocks everyone there. I tell them that their teasers will be much more important in catching fish than their favorite lures. By the way, that's coming from a guy that makes a living selling lures. A teaser doesn't have to be some mysterious voodoo do-dad that you purchase from a guy in a black coat at the back door at a tackle show. For the sake of this article, a teaser is anything you troll behind the boat that doesn't have a hook in it. Why use teasers...
Posted by Brian Richardson on

Note, the purpose of embedding your hook into the back of the lure head is to create a method to hold the hook in a steady position while it is being trolled. This eliminates it from fouling in the skirt or leader and makes the lure run perfectly. But it is important to note that your hook assembly must be able to pull free once a fish is hooked. Otherwise the fish can use the weight of the lure head itself to shake the hooks free during the fight. This system of embedding your hook accomplishes both goals. With this...
Posted by Brian Richardson on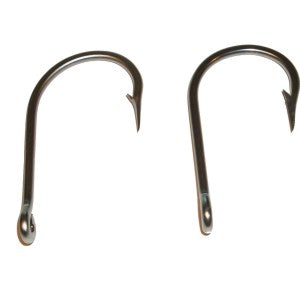 Tuna bend hooks are a small trick that really can improve your catch ratio!These pictures illustrate a test that I conducted matching tuna bend hooks against parallel shanked hooks. This will give you an example of how you can (and should) conduct a similar test of your own to determine which style hooks you should be using yourself . This test was very enlightening! I started with a Mustad 7732 parallel shank hook (like the one in the left on this picture) and a 7691S tuna bend (right). Both hooks were the same size with the only difference being the tuna bend....
Posted by Brian Richardson on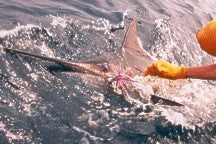 Usually there isn't a bunch of discussion among offshore anglers about whether or not they use stainless steel hooks. They'll talk about things like hook model and size, but the price of stainless steel hooks scares a lot of people into going with quality hooks in a less expensive material like cadmium.The actual hook that you use in your offshore fishing is a critically important choice. If you use a hook that is too big it can impede your bait or lure action. If you use the wrong shape, it can cause you to miss strikes. But what about the...
---