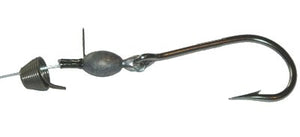 Bulletproof Fluorocarbon Ballyhoo Rig
The Eye Catcher Bulletproof Ballyhoo Rig has been featured in magazine articles because of thier uniquely effective design. This Eye Catcher rig is quick, easy and features a ballyhoo rigger, a pin weight and a special loop of wire within the hook's eye for extra protection against bite-offs. The pin weight keels the ballyhoo so that it swims in a naturally upright position and the bally rigger makes changing ballyhoo a breeze. Each rig on this page is made with Yo-Zuri H.D. Carbon™ leader Quick-Rig Southern Tuna Bend Hook and Curl-eez Leader Wrap.
Note: Unless you ask me to use one of my lures with these rigs, the loop end is left open and you can add the lure of your choice to the rig. A loop protector and crimps are also provided in the bag.