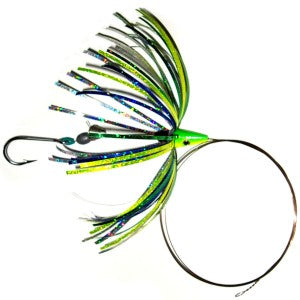 Outlaw Wire Rig
Wahoo Rigs are pretty simple. Unfortunately, wahoo seem to be such loners that it is relatively hard to get more than one or two lucky chances in a day's trolling. The best way to increase your daily wahoo numbers is to get ready to fish for them with the right lures and by being sure that you are deploying the right rigs.
It is pretty common knowledge that wahoo like to come straight up on their prey. They often miss the baits that they "skyrocket." A lot of good fishermen will fish purple/black combinations on the surface with their trolled baits in order to give a more visible silhouette and an easier target for wahoo. The most often deployed method of the local charter fleet is to put a bait or two down somewhere in their spread to increase wahoo hook-ups. Most often this is done with a downrigger or a planer. It does not have to be super deep to work.. I have found through experience that a bright colored lure produces much better on my planer rig.
The Wahoo Outlaw Rig is a 2 oz. Outlaw rigged for natural ballyhoo and can be used as a surface trolling lure, behind a bird. It is also effective as a first strike lure pulled on a downrigger or planer at around 15 feet down. This extremely unique and safe rig is made with a one foot section of #10 stainless wire with an additional snelled 7 feet of 130# Tuff Stuff Premium leader and is set up for a 12 pack ballyhoo. Note: This same lure set the GA state all-tackle record twice with 100+ pound wahoo along with the former MD wahoo record for Capt. Dave Wentling on the Instigator!
8ft 130lb premium mono leader