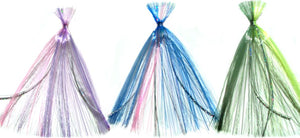 Supreme Squidwitch
The "Fiber Optic" Supreme Witch was just added to my catalog a couple years ago. I had hesitated for several years to add a witch to my lure line because I wondered how I could improve on something so established and standard? Then one day I made a few custom witches for a local captain and suddenly realized there just might be a market for these unique Supreme Witches. 

These witches are made with my custom fiber-optic hair in a unique blend of colors that seem to come alive when they hit the water. I have also added a couple strands of silver mylar to them for just a hint of extra flash.
Locals developed a custom hand-tied sea witch that they all swear by as being their most consistant tuna producing bait. They have even nick-named it the "supreme witch". It is a very light headed witch designed to be used over a 12 pack ballyhoo. My assignment was to design several unique looking witches that we at Eye Catcher could call "Supreme". Definately not an easy task for a company that makes the flashiest lures in the world but I think once you see what my results were you will agree that these tuna catchers are truely Eye Catcher Supreme Witches!
Each Supreme Witch is tied using a unique blend of premium fiber-optic hair with a couple of silver mylar strips added and then rigged just like the local captains do it. I think you'll find these incredibly inexpensive for such a high quality and effective rig. The color in these witches really comes alive when they hit the water!
This is not your old standard witch. It is probably the slickest and most durable light witch you have ever seen. I think you will quickly see why I called these the Supreme Witches.



Length: 6" · Head Weight: 1/8oz